Oregon, IL is along scenic Route 64 (North Avenue) just 99 miles west of Chicago.  It offers easy weekend getaways from Chicago, with a variety of activities or relaxation along the Rock River.
From Chicago, you can get there in less than 2 hours. Here are three easy ways by car.
Take I-90 W towards Rockford
Exit I-39 S/U.S. 51 S toward Rockford/U.S. 20
Stay on US-20 W (do not get onto I-39 S) 
Exit at IL-2 S/S Main St toward Dixon
IL-2 S runs along the Rock River through Byron and then Oregon. The Blackhawk Steak Pit will be on your left as you enter Oregon.
OR
Take I-290 W
Exit and continue onto I-88 W (signs for S Tollway/Aurora/I-294/W Tollway/Indiana)
Take the exit onto I-39 N/US-51 N toward Rockford
Take exit 104 for IL-64 toward Oregon/Sycamore
IL-64 runs right through Oregon. Once you get into town and cross the Rock River, make a right turn at IL-2 (4th St) and the Blackhawk Steak Pit will be 1 mile ahead on your right.
OR take the longer scenic route through small towns and enjoy countryside!
Take IL-64 W (North Ave) from Chicago to Oregon and enjoy the road trip!
IL-64 runs right through Oregon. Once you get into town and cross the Rock River, make a right turn at IL-2 (4th St) and the Blackhawk Steak Pit will be 1 mile ahead on your right.
Check out this website to discover Oregon, IL (click the picture)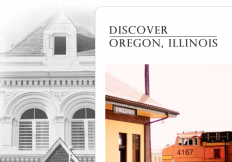 Accomodations in Oregon, IL for weekend getaways from Chicago
Harmony Hills Bed and Breakfast is a 15 minute drive from the Blackhawk Steak Pit.  It is a wonderful 5 acre retreat designed especially for couples seeking time away or small groups wanting to share time together.
The property itself is nestled among a forest of pine trees and 100 year old oak trees.  You can even catch glimpses of wildlife…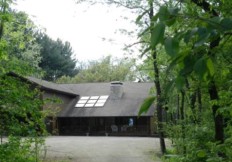 The Patchwork Inn is a highly rated bed and breakfast in Oregon.

James V. Gale built the first home in Oregon, Illinois in 1835. As part of the Northwest Territory settlement, settlers from the East were moving West creating communities and small towns like Oregon along the way. One of Oregon's early settlers was William Moore. In the mid 1840's, he along with his wife and six children traveled from Pennsylvania to settle in Oregon. His home, which is now the front portion of the Inn, was constructed of brick, and consisted of four large rooms with a central staircase. This architectural style has become known as Greek Revival. In 1848 Mr. Moore opened and operated a grocery store, later he established the first hotel for our city. According to the 1850 census Mr. Moore is listed as an Innkeeper and on the front page of Oregon's first newspaper published in 1851, the Inn is listed as "Moore's Hotel".
It was during this early period that Abraham Lincoln played an important part in Northern Illinois history. Lincoln traveled and spent time here before becoming President. It was during the mid 1850's that Mr. Lincoln visited the "Moore Hotel" for lunch and lodging.
During its' life the Inn has experienced various owners and names, including: Moore Hotel, Oregon House, Rock River House and The Blackhawk Hotel. Mike and Jean McNamara and Ron Bry purchased what was then known as The Blackhawk Hotel and lovingly remodeled it for 11 years, opening as The Patchwork Inn in 1999. They transformed a 30 bedroom 3 bathroom boarding house into what you see today. In 2009 the Inn was purchased by Patchwork Vision LLC (dba Patchwork Inn) in partnership with the Illinois Renewable Energy Association (IREA). It is the continued goal of the Inn to incorporate Casual Elegance with Environmentally Friendly practices and products. From our organic cotton and bamboo linens and towels to earth friendly cleaning products, the Patchwork Inn strives for sustainability as well as Casual Elegence and comfort for you.
The Pinehill Inn is a graceful, romantic and elegant bed and breakfast in Oregon.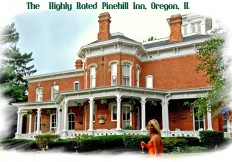 The Pinehill Inn beckons you with the feeling you are stepping back in time… the Rock River's most elegant oasis combining modern amenities with historic charm.
Oregon offers so much to do for weekend getaways near Chicago.
PARKS:
Check out Lowden Park for hiking and camping, which is across the river from the Blackhawk Steak Pit. There you can see the 2nd largest concrete statue in the world, Chief Blackhawk.
Check out White Pines State Park, with plenty of outdoor recreation activities, such as hiking, fishing, camping and picnicking. This scenic haven has magnificent trees that share moss-covered cliffs, strung with trailing vines.
Castle Rock State Park is located along the west bank of the Rock River in Ogle County, three miles south of Oregon, on IL-2. There are 6 miles of marked hiking trails where hikers can view woodland animals and birds inhabiting the park and photographers can sharpen their skills. More trails are planned with the park's development. Cross-country skiing and tobogganing also are available when weather permits.
Castle Rock is a large sandstone butte situated between the Rock River and Highway 2. The rock is made up of St. Peter sandstone. In only a few places in Illinois does St. Peter sandstone comes to the surface, even though it underlies practically the entire state.
GOLF:
Silver Ridge Golf Course is a challenging and beautiful 18 hole course. It is a 5 minute drive from the Blackhawk Steak Pit, north on IL-2 and then a left at Mud Creek Rd.
SALON & SPA:
Established in November 2000, "Red Stone" offers a unique environment where classic meets modern. Our knowledgeable staff provides an experience personalized specifically for you, making your visit a memorable one. We accommodate all your needs for hair, skin and nails. Including customized consultations for cuts and color, acrylic and natural nail services, body waxing, makeup and skin care, massage and dry heat sauna.
HORSEBACK RIDING, CROSS COUNTRY SKIING, HAY RIDES, SLEDDING:
The White Pines Ranch covers 200 acres of beautiful woods, pastures and horse trails. It offers horseback riding, swimming (in season), hiking through our beautiful sandstone canyon, horse studies with grooming, scavenger hunts, mapping, orienteering, outdoor games, fossil hunts, and studying wildlife. Evening activities may include hayrides, Bingo, country line dancing and campfire songs. Winter activities include cross country skiing, sledding and lots of hot chocolate!
WATER ACTIVITIES:
Whether you're an avid paddler or just want to bring back memories of canoeing as a kid, come and canoe the scenic Rock River. Nature abounds, the scenery will captivate you, as you leisurely canoe along sandstone bluffs topped with majestic white pines.
Canoeing along the Rock River you can enjoy Natures beauty, have a shore lunch, do some fishing, take a dip or just lay back and take in the sights. There's plenty to see and great fishing, The river is teaming with trophy catfish, small mouth bass and Walleye.
Make sure to get a fishing license first. You can get one online HERE.
Lake Ladonna is such a fun time. A large white sand beach surrounds the lake, perfect for sunbathing and creating sandcastles. There are two giant beach funbrellas to provide shade for swimmers. Our lake will keep you cool on a hot summer day and the kids busy. A rope swing dock, made to look like a pirate ship swings kids off the "plank" by a thick rope attached to the mast of the ship! As they swing out, a 30-foot waterfall drenches them before they go into the lake.
Coming soon our other dock will included a diving board, water slide and possible zip line. And for the little ones, Kiddie land has a small slide and tire swings to play on. Two beach volleyball courts are always ready for you. And a full size basketball court is ready for action just off the beach. Lake LaDonna has a brand new lodge, and across from that in the pavillion with an arcade of video games, pinball, and a juke box. The lodge offers camping goods, firewood, ice, groceries, candy, beach toys and great food!!!

CAR RACES:
Come to this 1/4 mile drag strip in Byron, IL, which is about 15 minutes from Oregon, IL. Since its opening day on July 4th, 1964, Byron Dragway has seen just about every star in the sport of 1/4 mile acceleration traverse its famous asphalt strip. The Manufacturers Funny Car Championship of the 1970s established the track as the place that every touring pro racer had to appear. For sportsman racers, Byron Dragway is reknowned as the birthplace of Bracket Racing. Every Labor Day the track hosts the U.S. Nationals of Bracket Racing. In October of each year Byron Dragway holds the Power Wheelstanding Championship. This event has grown over the years to challenge Northern Illinois University Football for the status as the area's largest spectator event.
Byron Dragway is located 8 miles north of Oregon on River Road. For more information call 815-398-1060.
TOURS:
Built between 1928 and 1930, the Strong Castle was the summer home of Walter Strong and family. In the early 1960's the family sold the property to the Presbyterian Church for use as a camp ground and retreat center. This 80 year old building is designed to represent a traditional Tudor-style manor house. It boasts 10 bedrooms, 8 bathrooms and a secret passage or two.
Our tour lasts approximately one hour and includes information about the Strong family, the process of building their castle and brief touches of depression era history. Attendees also get a glimpse into castle structure and medieval life.
Visitors to the Ronald Reagan Boyhood Home have told us that they are transported back in time when they walk in the front door of the home where the 40th President and his family lived in the early 1920s. The home has been fully restored with furnishings of the period and knowledgeable tour guides share stories about the house and the family.
Experience the history of farming on the prairie. Take a trip back in time to the days when John Deere worked in his blacksmith shop in Grand Detour, Illinois. Stroll through his restored home and the grounds. See the sparks fly in a working replica of his shop.